On Friday a strong Spike Bounce signal (marked as a vertical dashed "S" line in the chart below) was triggered, after the S&P traced a clear washout of the January lows andclosed above -1ATR, with new lows shrinking from about 2600 to just over 150.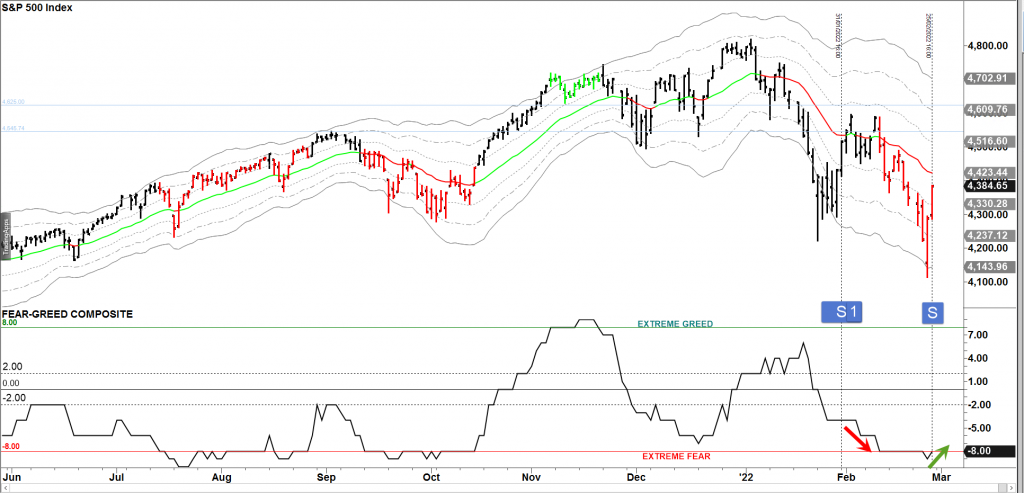 Last weekend I wrote: "a clear washout of the January lows could bring FGIC to panic levels for the first time since the beginning of the decline. Markets have to panic before recovering. Triggering a Spike Bounce could possibly generate a tradable rally."
On Thursday, FGIC sank to the panic level of -9 and then immediately ticked up, along with a strong Spike Bounce signal. At the end of the week, it was still in its extreme fear zone, but that upward tick supporting the SB is a bullish signal that did not occur at the late January bottom.
The S&P500 closed in the value zone, approaching strong resistance. Next week we want the new lows to stay below 500, the S&P500 not to close below -1ATR and FGIC to continue to rise from extreme fear readings.
The chart below shows FGIC with all available historical data.  It makes very clear the cyclical nature of the two dominant emotions among the masses of traders.